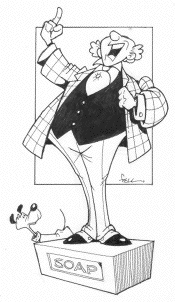 If you're looking for a speaker or entertainer for your next meeting, reception or social event, and you want something a bit out of the ordinary, call on Paul Fell. You can retain Paul as a speaker or feature him at your event creating on-the-spot caricatures.
Paul's Speaking Engagements
Paul Fell has spoken to groups of all ages and interests about his career as a political cartoonist. His presentation is titled: "Life As A Cartoonist / Why Don't You Get A Real Job?"
This is a presentation unlike any other, where Paul promises that you won't learn a thing and guarantees that you'll have tons of fun! Fell discusses a day in the life of an editorial cartoonist, touching on topics like how he gets ideas, dealing with editors, deadlines, and irate readers. During his talk he shows samples of some his latest cartoons and draws famous personalities on the spot. The highlight of the program comes when Paul calls "volunteer" audience members up on stage to pose for their caricatures.
Paul's Caricature Sessions
Spice up your cocktail party, reception or trade show by arranging to have Paul Fell on hand to draw on-the-spot caricatures. This is the ideal ice-breaker for groups of all kinds and sizes. Even if you're not brave enough to sit in the caricature hot seat, it's a lot of fun to watch Paul create fast, funny accurate likenesses of his subjects. He always takes special care to exaggerate those facial features they'd just as soon we not notice.

For fees and booking information, email Paul or call 402-420-6789.