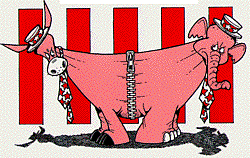 Paul Fell started drawing editorial cartoons as a freelancer while teaching high school art in Auburn, NE. At one point before joining the former Lincoln (NE) Journal as editorial cartoonist, he was creating five cartoons a week for four different newspapers. During his years with the Journal, he self-syndicated his editorial cartoons to newspapers in the state of Nebraska, almost exclusively.
Fell's cartoons appeared daily in the Lincoln Journal from 1984 to 1992 until his staff position was eliminated. When the Lincoln Journal and Lincoln Star merged in 1995 Fell was contracted to draw three editorial cartoons a week on state and local issues. That relationship continued until the middle of 2007. Fell continues to contribute editorial cartoons and humorous illustrations to various other local and regional publications throughout Nebraska, as well as nationally.
Paul's connection to Nebraskans runs deep, and the majority of Fell's editorial work deals with state and local issues. Paul believes that his cartoons on those topics that are local often have more impact and usually evoke a more passionate reader response.
Paul also has strong and engaging opinions on national and world issues, that come off in a unique way many other cartoonists can't match. That's why in 2005, Artizans Syndicate began distribuitng Paul's cartoons to newspapers throughout North America, and worldwide, online through Artizans.com.