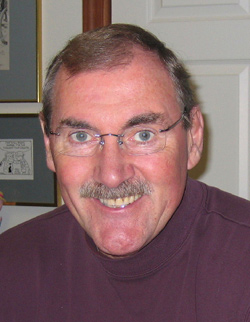 Paul Fell grew up in Massachusetts but headed west to Nebraska to play college football and study art. He married a farm girl and discovered that the Cornhusker state and its people had grown on him. He has been a high school art teacher and coach and a college art professor in addition to pursuing a career in cartooning.
Fell was the editorial cartoonist and newsroom artist at the former Lincoln (NE) Journal newspaper from 1984 to 1992. When his position was eliminated without warning he decided to try his luck at being his own boss. He has been operating his freelance cartooning and humorous illustration studio, Paul Fell Cartoons, ever since.
Fell figures that if he can make a living as a cartoonist out in the heart of the Great Plains, he can make it anywhere. He takes pride in being able to cope with Nebraska's extreme weather conditions and feels only contempt for those Midlanders who move to places like Arizona and spend the rest of their days bitching about how they miss the change of seasons.