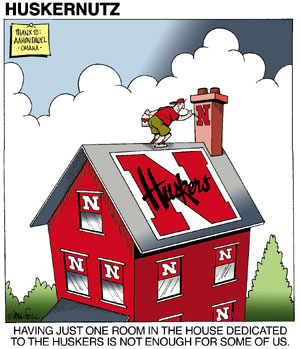 Since the late 1970's, Paul Fell has been drawing and creating cartoons professionally that focus on all things related to the fans and players of the Nebraska Cornhuskers. For much of that time, Paul has worked with Huskers Illustrated magazine to regularily produce and publish his work for their sports-loving audience. Being a former college football player and unabashed sports nut, this is the ideal outlet for Paul's work.
Huskers Illustrated is published weekly during the football season (August-January) and monthly the rest of the year and features in-depth coverage of all University of Nebraska sports teams. During the football season, Fell also creates another feature titled "The Paul Fell Prediction" that gives his outlook, in cartoon form, on the upcoming Nebraska Husker football game of the week.
Paul also draws the highly popular "HuskerNutz" cartoon for each issue. This funny look at the faithful fans of Husker Nation chronicles the behavior that most folks find rather odd but "HuskerNutz" consider normal. A great part of the success of this cartoon feature must be credited to the magazine's readership. HI solicits suggestions from readers for "HuskerNutz" cartoons. If Fell uses a reader's suggestion, the contributor gets credit for the idea, as well as an autographed color print of the "HuskerNutz" cartoon it inspired.

Feel free to check out either of these great cartoon lineups. And Go Big Red!